Tripawds is a user-supported community. Thank you for your support!
Yesterday Super Boomer got his bandana and he loves it!!!  With the bandana came the nicest card and Boomer enjoyed reading it with me.  Then the excitement began when he realized that it was for him!  When I first put the bandana on Boomer he rolled around and wagged his tail like a little puppy.  He just knew that this bandana is his brand new Super Boomer cape.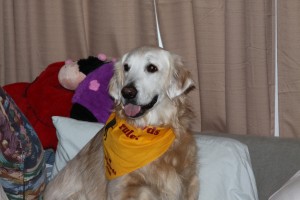 Boomer has two favorite things now outside of family and camping and that is his ruffwear harness and his new "cape".  He helps me put his harness on every time we go out.  It really is cute to see him walk over to it and when I say left leg he shifts his weight for easy access, then I say head and he puts his head through.  He then holds perfectly still until he is snug as a bug and ready to go.This pic shows how he likes to also help with the mail.  He sorts the recycle from the good stuff.  You can see how much he loves his gear and helping by the great big content smile on his face.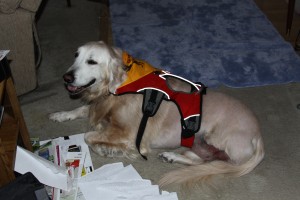 Along with his bandana came a shirt for Dad and they both love it!!!