Hi, my name is Super Boomer and I just became a Tripawd on February 2nd 2012.  Mom and I have been posting since a couple days before the amputation on my back left leg due to cancer.  My family was devastated when they found out I have cancer and there wasn't many options.   So…they made that scary decision for the amputation vs. sending me to the Rainbow Bridge.  I am so glad they did.  They met with a specialist and she confirmed the cancer wasn't into my guts yet or in my lungs.  Then we met with my Surgeon, Dr. Cowan.   That brought another decision, try to save part of my leg or remove at the hip.  Mom was brave and made the choice for me all on her own, take the leg to the hip.  Dr. Cowan told her she made the right choice.  Two days later, I became a Tripawd. 
Here is a pic 14 hours after surgery: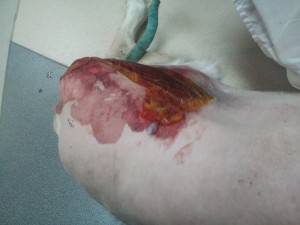 My tail was wrapped and I have a soaker for some of my medicine.
When I first got home, it was difficult because I wasn't sure how to get around and the medicine zoned me out.  I started getting ill from the meds so off to the ER.  They reduced my medication and my tummy settled down.  Even though my tummy settled, but my energy came up.   This concerned my folks because I was supposed to stay relaxed for several days.  (Also, when I get active my soaker port bleeds).  Yes, there is a lot of blood to start and it looks scary but is normal.  The family put runners down and puppy pee pads so I wouldn't worry about getting my blood everywhere.  My sister Sunshine even tried to take care of me.  We liked to snuggle up, even though I am now a Tripawd she still loves me just the same.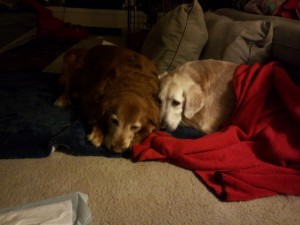 Now it has been 5 days and my incision is looking so much better.  The soaker port still bleeds but should be coming out in the next couple days.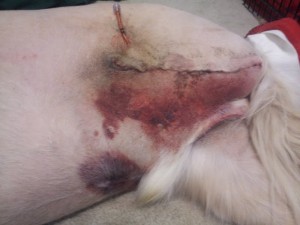 So, there it is, day 1 – 5.