It is amazing how much better I am feeling now that it has been 2 weeks plus 2 days as a tripawd.  The medication is out of my system finally and my appetite is coming back.  When I started into this transformation I was 99.8 pounds.  Mom took me and my sister Sunshine, to our regular doctors office a couple days ago to weigh Sunny, she's a big girl and has to lose 34 more pounds.   You can see how big Sunshine is in this picture of her and my bipawd sibling Carolyn when they were trying to be stowaways.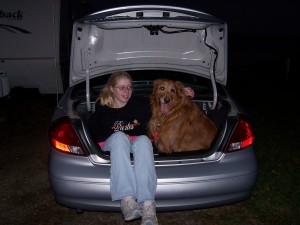 So, what does Mom do, she gets me on the scale after Sunshine.  I have lost weight.  I am down to 88 pounds and now she says I still need to lose 13 more pounds?  When was I put on a diet?????  Does she not understand I am much better and my appetite is back?  I was 94 pounds after surgery, I have lost 6 pounds in 2 weeks, my appetite is back and now I am on a diet.  Ugh!!!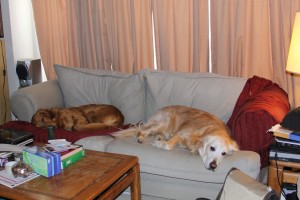 Here is a pic of me at 99.8 pounds with my little brother Sammy.  (Sammy is too skinny in my opinion)  I don't think I look overweight.  You can see from previous post my weight loss and Mom is going to continue to take pictures of my recovery and as she says, "Getting to my proper Super Hero weight."  Leave it to Mom.